Our marina
Move in now!  Pens are available  – just call Bruce or Penny on 0357 742585 for more information or email us at accounts@jerusalemcreek.com.au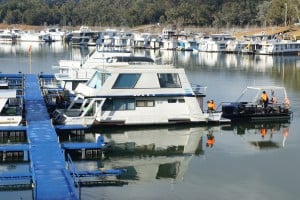 We offer:
Simplicity
Jerusalem Creek Marina is also the only marina on Lake Eildon that offers its houseboat owners walking access to the marina 365 days of the year (with the only exception being when the lake is below 6%). You can park your car then walk onto the marina and then onto your houseboat. No other marina on Lake Eildon can match this!
Freedom
Annual pen hire and the freedom to come and go as you please. There are no trust units to purchase, no joining fees, club fees, member fees or those mandatory working bees.
A range of pen sizes
We have four (4) different pen sizes;
Small marina berth – (4.5 meter / 15 feet) Suitable for GM-W Houseboat Category 1 & 2 also suitable for selected cabin cruisers.
Large marina berth – (6.6 meter / 22 feet) GM-W Houseboat Category 3 to OLD Category 6.
Super marina berth – (8.4 meter / 28 feet) GM-W Houseboat  for NEW Category 6
Superior marina berth – (11 meter / 36 feet) GM-W Houseboat Category 3 to 6 with room for barge or ski boat.
Competitive rates
Annual pen hire starts from: (prices effective from 1st July 2016 – 30th June 2017)
Small marina berth $2640.00 per annum
Large marina berth $3680.00 per annum
Super marina berth $4500.00 per annum
Superior marina berth $5500.00 per annum
Marina fees are for a period of 12 months and include GST
Features of our marinas
| | | |
| --- | --- | --- |
| Solar lighting | New navigation lights | Windsocks |
| Special,non-slip surfaces | Finger crash bumpers | Name tags on pens |
| Quieter marinas | Low water access ramps | New tyre fender system |
| Improved parking | Refurbished pontoons | Windy parking bay |
| Laundromat | Children's playground | Boat jetty parking |
| Kiosk open 7 days a week | Bottleshop | Café 501 |
Extras included in your annual fee
Rubbish collection and walkway rubbish bins
24/7 security and daily staff patrols
Gas bottle rental
Gas bottle exchange and delivery (you pay only for the gas!)
1 free inspection slip (using cradles in the water) annually (conditions apply)
Windy parking bay (if caught in bad weather you can park your boat and we'll put it away for you)
Click here for our Info, Rules & Policies.
Ask about our 'Summer Lease' (1st November to 30th April)
Pens are available now so call us today to enquire on (03) 5774 2585 or email us at accounts@jerusalemcreek.com.au
And there's more…
Our valued marina clients are entitled to lower fees for any maintenance or slipping service.      You can also hire tools or equipment including water blasters, generators and scaffolding from us.

 

We are so confident that you can't get this value for money elsewhere – we will match the annual fees quoted by another marina for the same services and facilities

.
 It doesn't stop there…
Did you know that we now have a 200 seat restaurant, fully stocked shop, and bar within walking distance of your marina?
We also have a few other developments planned.  We'll tell you more about them when we meet.
Need more information?
Just contact the office on 0357 742585 and ask to speak to either Bruce or Penny
Introducing our latest brochure:
Marinas at Jerusalem Creek Marina and Holiday Park