We love to hear that you've enjoyed your experience whilst at Jerusalem Creek Marina & Holiday Park.  If you would like everyone to know just how much then send us an email and we'll add it to this page for you.  Here's what some people had to say..
Hi
Just wanted to say thanks for service with a smile – rare commodity now a days.
Also the place looks great – as a local for 15 years, I'll be bringing visitors back.
Nice to have fresh oil for chips – burgers were real, kids enjoyed them.
Keep up the smiles and good work — Cheers Fi
Good Morning
This is a fish I caught over the weekend whilst staying on your boatels, I have one of your hats on!
Thanks for a good weekend — Anthony Parker
We first started going back to Lake Eildon after a few years with no boat and had the worst possible visitor accommodation close to the lake and we swore we would never go back there.  My wife started to look around (as our new boat wanted the lake) and suggested we try Jerusalem Creek as I used to stay in the camping area in the 80`s but I heard they no longer have camping sites, so she looked around and found that they had "BOATELS".  "What the heck is a boatel?" I asked her, so before you know it we are booked in. The following week we hook up the boat and all the gear (we are well seasoned campers) and took the drive to Jerusalem Creek Marina.  Upon arrival we were greeted by one of the staff who took us down the metal boardwalk to our floating caravan showing us all the features which are great, the first thing that took to my eye was the fact we were 50m from the boat ramp then it jolted that did not matter anymore due to the fact that the boatel has a huge deck that our speed boat stays moored up to for the whole time we are there with plenty of room for all our water sport gear and still sit a heap of people. We used the BBQ most of the time except dinner, as it still gets cool at night, just cook indoors. Every day we would be up at the store having coffee, dinner, lunch, and brekkie depending on the day before. You could just shoot over to other venues all across the lake.  What a place to setup for the week.  Everything you need is here we now pack just about nothing.  The staff offered us help when we needed it, the management were so helpful with all our needs. Having fuel on the water was great. Our children have a great time with lots for them to see and do, such a wonderful place that we now call this our summer place. –Regards Barany family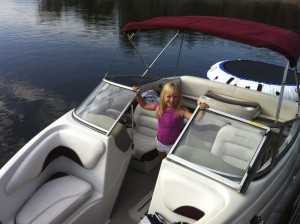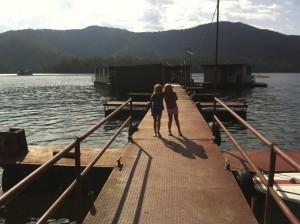 Hi everyone,
32 years ago we started our camping adventures in the park at Jerusalem Creek, and spent many years around different areas of Lake Eildon. 2 years ago we bought a houseboat, and are moored at Jerusalem Creek Marina (we made that decision before buying a houseboat).
We come up to the lake as often as we can, our first stop is usually the General Store, to catch up with the 'locals', a bag of ice and my tub of worms.
I don't need to go too far to catch a good size fish either, my favourite spot is the duckboard on the houseboat, the best I've caught so far is a 49cm Murray Cod, (did take a picture and gently popped him back) hopefully catch him again when he grows to 60cm. I only use scrubbies or corn.
We've met so many likeminded folk, from the park and marina, we love catching up at the bar on a Friday and Saturday afternoon / night, there's always someone with a story to tell, and Simone cooks a great ribeye! Not to mention scrambled eggs and bacon on toast, hot chocolate and cappuccino for breakfast on the veranda in the sunshine, overlooking the best view on the lake. 
In winter, snow capped Mt Torbrek is a bonus as the view from our lounge window of the houseboat.
Love our home away from home….Jo & Dave